I loved Tuesday's Color Challenge Combo. It had brown in it. 🙂
My card base is a 4 1/4″ x 8 1/2″ piece of Close to Cocoa cardstock piece. It was folded and the card front edge was sponged.
The next layer is a 3 15/16″ square of Whisper White cardstock followed by a 3 3/4″ square of Blush Blossom. The Blush Blossom cardstock was stamped with an image from Bird on a Branch Stamp Set in Cameo Coral. The cardstock edge was sponged first with Blush Blossom, then with Cameo Coral and a paper pierced border was added.
I added a slim strip of Whisper White cardstock on the lower half of the card front and placed a strip of Close to Cocoa Cardstock over that. The Close to Cocoa strip had been cut, embossed and stenciled with the Kaleidoscope Borderabilities. Celery 5/8″ wide grosgrain ribbon was tied above the die cut strip.
The main image panels were cut with Nestabilities Label 3. All images are from the Bird of the Branch stamp set. The branch was stamped in Close to Cocoa, the leaves in Certainly Celery, the bird in Cameo Coral. I left the Nestabilities die over the textured white cardstock while stamping, and also left it over the cardstock while sponging Blush Blossom over it. Then I layered it on the next size up Label Three cut out of sponged Close to Cocoa cardstock. A paper pierced border was added on the edge of the white cardstock.
I stamped the bird again in Cameo Coral on Textured white cardstock, cut it out and adhered it over the main panel with dimensionals. I covered the bird in Crystal Effect and sprinkled Dazzling Diamond Glitter over it.
To add more green I decided to add a Certainly Celery circle underneath my Pretties Kit half pearls. Unfortunately the 1/4″ circles were just as big as the pearls and the 1/2″ circle looked too big. So I decided to try the Window Word punch. I first punched a tag out like normal, then slit it back into the punch, lined it up until it looks like a circle and punched. That circle was perfect for my pearls and measured about 3/8″.
For the inside I created a similar layers then the front. Except for the Blush Blossom layer was cut this time with the second Borderabilities template. The one that only cuts one side, not both. Again the background image was stamped in Cameo Coral and the edges were sponged first with Blush Blossom, then with Cameo Coral ink.
 For the visual learner out there, I shot a video tutorial on sponging. You can find it here: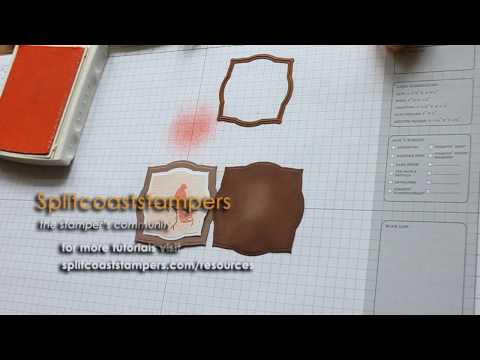 Have a wonderful day! Hugs and smiles