I am sorry I was so quiet over the weekend. Saturday I received the first Season of Eli Stone. I love that show and am sad it won't come back this year. Austin and I watched the entire first season on Saturday. Sunday we had a cold front come in and with it came a nasty migraine. Yesterday was the first day of school for my smaller two and a BIG cleaning day for me.
I was excited to have all morning to play and checked out the Color challenge  right after my (super fast) walk. Kraft, Chocolate and Real Red sounded like another Christmas Color combo to me, especially since I had just received JustRite's Old Fashioned Christmas the day before.
I started by stamping the image in Black Memento Ink on Shimmery White cardstock. It was cut with Circle Nestabilities, Air Brushedwith W1 Copic Marker and then colored with Copic Markers (Browns: E43, E44, Yellows: Y18, Y26, Green: YG06, G07, Red: R22, R27, R29). Next it was layered on a slightly bigger Chocolate chip circle, then on a ruffled base made with Eyelet Shapeabilities. Check the bottom of this post if you are interested in how I created the ruffled base.
My card base is a 4 1/4″ x 8 1/2″ piece of Chocolate chip. I was scored and folded at 2 1/8″ and 6 3/8″ to create a Gate Fold Card. The Kraft cardstock measures 1 15/16″ x 4 1/16″ and the Christmas Cocoa Specialty Paper measures 1 3/4″ x 2 7/8″. The ribbon is from last years Holiday Mini catalog. I love that Satin ribbon.
The inside of the card matches the outside. I layered the Specialty paper on Kraft cardstock layers.
Here is a video for visual learners: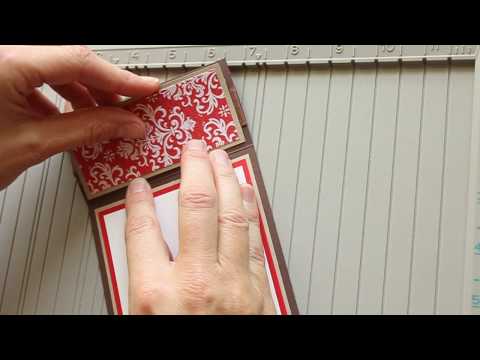 Check the next page if you want to see how I created the Ruffled base for my image.
Step 1:
Cut and, emboss and stencil your cardstock with Shapeabilities (Eyelet Pendant used here.)
Step 2:
Start Scoring your Pendant. I lined up the half flower over the score line and scored.
Step 3:
Turn your Pendant, line your small center flower over the score line and score again.
Step 4:
Continue to turn and score until all flowers have score lines.
Step 5:
Prefold all your score lines.
Step 6:
Add glue dots to all our valley folded score lines.
Step 7:
Tape your scored Pendant on a circle base.
Step 8:
I addhered my main image with a double layer of dimensionals. One layer wasn't high enough for the ruffled skirt.