Last week's tutorials you might have missed in the newsletter was faux tearing. I created the sample for the video with the Color challenge combofrom that week. Let's just say that was not my favorite combo. LOL
The card base is a 4 1/4″ x 8 1/2″ piece of Chocolate Chip cardstock folded in half. The card front was sponged with Rich Cocoa Memento ink. Next is a 3 15/16″ square of Whisper White cardstock topped with a 3 3/4″ square of Pretty in Pink cardstock.
The left side of the Pretty in Pink layer was sponged with Dusty Concord and stamped with the background strip of Ippity's Because of you in the same color. The layers were stitched together and a sentiment from the same set was stamped in Rich Cocoa to the right. White Organdy Ribbon was tied over the sponged side of the layers. Clear Kaiser Rhinestones on the top right finished off the card base.
For the main image I stamped the heart twice. Once in Rich Cocoa, once in Dusty Concord.  The brown image was cut out with Octagon Nestabilities and layered it on a slightly bigger scallop Octagon. The purple heart was cut out, taped to the brown image with dimensionals and covered with Stardust stickles. Tiny Twinkleswere added to the heart while the Stickles layer was still wet.
The inside of the card is created the same as the card front. It shows of the technique better, since the faux torn layer is not covered up.
Here is a video for the visual learner: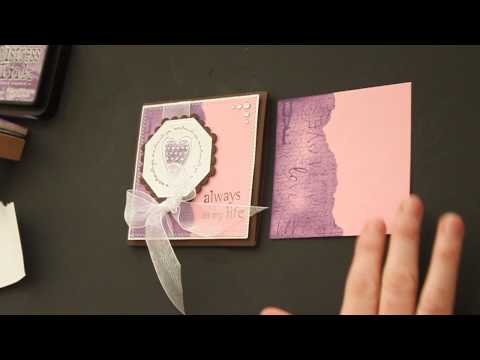 Have a wonderful day! Hugs and smiles