My centerpiece base is part of a Manila file folder cut with Label 8 Nestabilities. The Vintage Blossom stamp was inked with Pearl Acrylic Paint Dabber and stamped on the bottom right of the label. After it dried (I helped along a bit with my heat gun) I stamped the Giving it all meaning background over it with Vintage Photo Distress ink. I also added swirls with one of the stamps from Growing with Unity.
Next the label was sponged with Spiced Marmelade, Fired Brick, Peeled Paint and Vintage Photo Distress inks.It was layered on a slightly bigger piece of Chocolate Chip cardstock that had been sponged with Walnut Stain Distress ink. The sentiment is from Ippity's Life's little Moments. It was stamped in Black Stazon on another piece of Manila File folder. It was cut out as an oval to fit one of  Tim's Ornate Plates. Two small swirls were added with Vintage photo before the oval was sponged with Dried Marigold and Fired brick. The Ornate plate was attached to the label layers with matching brads.
A grungeboard swirl was first inked with Walnut Stain ink, then embossed with Walnut Stain Distress embossing powder. It was adhered to the card front, one of the ends hidden behind Daisy Doodle Flowers. The flowers were topped with a Making Memories Brad.
A 3 15/16″  x 5 3/16″ piece of Manila File folder was sponged with the same inks as the center piece, the edges were inked with Pearl Acrylic Paint Dabber. A border was stitched around the layer before it was adhered to the 4 1/4″ x 5 1/2″ Chocolate Chip card base.
The inside layer of the card was also sponged like the outer layers and stamped with the Vintage Blossom and the swirl image used on the front. Here I had room to stamp the entire sentiment. I could only use the first two lines on the card front.
Here is a video for the Acrylic Resist technique for the visual learner: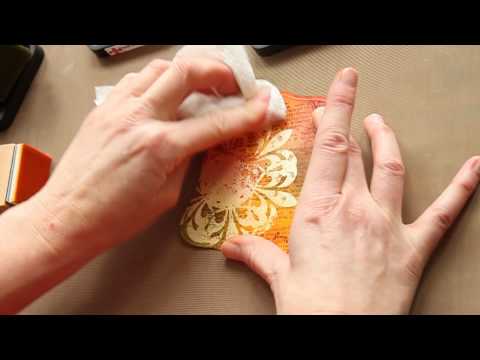 Check the Unity Blog to find a list of 50 blogs that participated in today's Friends with Flair Friday.