For today's post I overhauled the old Faux Mother of Pearls tutorial with new pictures and updated instructions. I also shot a video for this technique. I substituted regular white cardstock for the glossy kind. I wanted to color the image after creating the background and found it easier with regular cardstock. For a shinier version you can definitely use glossy though.
Before I start talking about the card, let me tell you a bit about JustRite's big blog hop.
30 designers, FIVE shopping sprees each day.  No one knows where the prizes will be!  Each day of the hop JustRite will have five Mystery Blog Candy Prizes hidden along the hop with a total retail value of  $600.  JustRite will randomly select five mystery blogs each day of the hop and randomly allocate each of the shopping sprees.  For your chance to win, simply leave a little love (a comment) on each designer's blog including the JustRite blog.  The more designers you leave comments with, the better your chances of winning.  Each day's comments will remain open for three days.  A winner from each of the mystery blogs' comments will be randomly chosen using Random.org.  Consult the listing of designers at the JustRite blog each day (each day's designers will be different) and start out on your way!  Beginning Friday, March 26, summaries of all the winners will be posted on the JustRite blog.  Good luck to everyone and enjoy all the JustRite eye candy along the hop! 
Today during the JustRite Mega March Blog Hop (Day Three) JustRite and its sponsors will be giving away the following five prizes:
· $200 JustRite Shopping Spree
· $100 Spellbinders Shopping Spree
· $100 Copic Prize Package, and
· Two additional $100 JustRite Shopping Sprees! 
Blog comments for Day Three will be open until Saturday at 6pm EST.  On Sunday, JustRite will announce on their blog which five blogs have the mystery candy for Day Three.  You will need to go to the JustRite blog to determine where you need to go to find out if you are one of the five lucky winners.
Today's participants are:
JustRite Inspiration Blog
Debbie Olson
Sherrie Siemens
Beate Johns
Heidi Blankenship
Kathy Jones
Karen Hunsaker 
Peet Roeven
Michele Kovack
Cheryl Nelson
Anja Curvers
Kay Sibley
Katarina Menzies
Holly McMillen 
Tammy Hershberger
Angela Barkhouse
Heidi Van Laar
Mel McCarthy
Sarah  Parker
Jennie Black
Laura Davis
Ashley Newell 
Tanis Giesbrecht
Alice Wertz
Shanna Vineyard
Rae Barthel
Ryann Salamon
Terre Fry
Mona Pendleton
Lisa Silver
Kim Moreno
My card base is a 4 7/8″ x 9 3/4″ piece of Neenah Solar White cardstock folded in half. The edges of the front were painted with  Pearl Acrylic Paint to create a shimmery look. The 4 1/4″ square of My Mind's eye paper was sanded and stitched on a 3/16″ bigger piece of Black cardstock.
For my center piece I created my Faux Mother of Pearl background with Pearl Acrylic Paint and sponged Tattered Rose Distress ink all over the cardstock.  I stamped the image from Plant a Little Love over the background and colored it in with Distress Re-inkers (Fired Brick, Peeled Paint, Vintage Photo) and brush. The images were cut out and layered with Circle Nestabilities.
The horizontal strip was created just like the center piece. It was layered on a slightly bigger piece of Basic Black cardstock, that had been punched with Stampin' Up!'s Scallop Border Punch. May Arts White Silk Ribbon was tied around the layers.
The sentiment is from JustRite's Just a Note stamp set. It was stamped over a Faux Mother of Pearls background that had been sponged with Fired Brick ink.
Here is a video for the visual learner: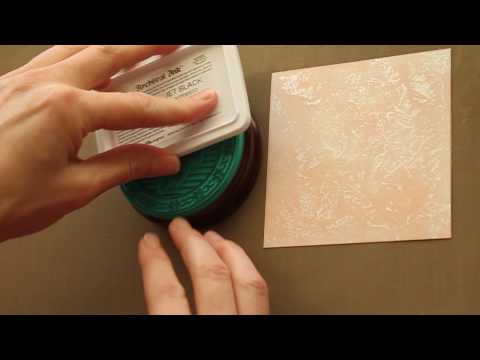 Have a great time checking out everyone elses post. Thanks for stopping by! Hugs and smiles