My internet is out again since Saturday afternoon. It is getting really old having it break every month with no apparent reason. It's Sunday afternoon and I am sitting in the Richmond Airport waiting for Colleen to arrive from Atlanta.I can't wait to hang out with her the next two days.
These little ornaments are too much fun! All you need is some Microscopic Slides or like in my case, Memory Glass from Ranger. For the video I created several different samples.
Easy Santa
For this ornament I cut down a piece of Christmas Creative Scrap from Crafty Secrets. It was cut down to 1 7/8" square and backed with a 1 7/8" piece of patterned paper. The paper pieces were sandwiched between a  2" x 2" piece of Frosted Memory Glass and a 2" x 2" regular Memory Glass. All the layers were placed into a 2" x 2" Memory Frame. Red silk Ribbon was used as a hanger and to tie a bow around the hanger. The bow was topped with a Vintage Brad from Stampin' Up!.
Sweet Girl
I cut another piece of Christmas Creative Scraps down to 1 7/8" square  and backed with another Creative Scrap square in the same size. A Tim Holtz Memo Pin was stuck between the layers before they were layered with Memory Glass. This time I wrapped ¼" wide Scor-Tape around the layers, took off the liner and pressed the tape in Vintage Shard Glass Glitter.  A bow was tied around the pin with beige silk ribbon. A mulberry flower and leaf from Recollections as well as a Tim Holtz Philosophy tag were added to the bow. Silver Cord was used to create the hanger.
Vintage Santa
For this sample I stamped my favorite Santa from Crafty Secrets Vintage Christmas in Rich Cocoa Memento Ink on X-Press It! Blending Card and colored it with Copic Markers (Background: E30, E31 Skin: R0000, R01, R20 band: E57, E59, Holly: G24, G28 R39, R59, coat: R27, R29, R39, beard/hair: W00, W1, W3). The cardstock was cut with 1 7/8" square and backed with patterned paper, sandwiched between Memory Glass and placed in another Memory Frame. May Arts Brown Crinkled Ribbon was tied in a bow on the Memory Frame and topped with a Recollections Brad. This time I used embroidery floss for a hanger.  To dress up the frame, I added May Arts Crochet Lace on the left hand side, topped it with a button that tied to the lace with waxed Linen. Three Latte Kaisercraft Pearls on the upper left hand side finish off the ornament.
Here is a video for the visual Learner: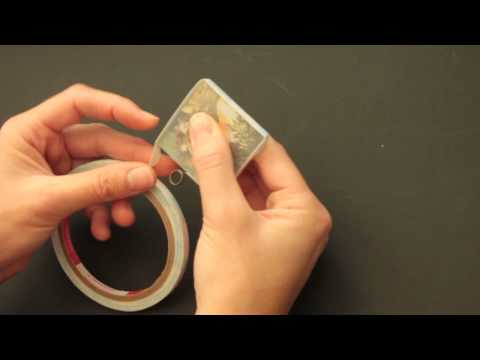 Thanks so much for stopping by. Have a wonderful day! Hugs and smiles