For yesterday's newsletter I picked the Triangle Tri-Fold card tutorial as the Tutorial you might have missed. For my sample for the video tutorial .
I stamped the image and the small sea gull in Rich Cocoa Memento Ink on Neenah Solar White cardstock. It was cut and embossed with Label 1 Nestabilities and colored with Copic Markers (Hat and Sand: E30, E31, E33      Dress: BG10, BG11, BG72      Skin: E50, E51      Bucket and Shovel: R11, R12      Ocean: G0000, G000, Goo        Sky: B0000, B000, B00      Sea Gull: W2).
The label was first sponged with Antique Linen, then with Vintage Photo Distress Ink for an antique look. It was layered on Early Espresso cardstock cut and embossed with the next size up Label 1 die. The edges of the image layer were paper pierced.
The card base is a 4″ x 12″ piece of textured Early Espresso cardstock. It was scored at 4″ and 8″. The outer panels were scored diagonally. Next a 3 9/16″ piece of white cardstock was cut diagonally and topped with Fruehlingserwachen Whiff of Joy patterned paper. The paper was first cut into a 3 1/4″ square and topped with a 1 1/8″ wide strip of the same paper pack. Then the square was cut diagonally. The triangles were adhered to the bigger white triangles. Melissa Frances White Lace was adhered over the horizontal strip before the pieces were stitched with brown thread.
Three Copper Brads were added to the lower right of the right triangle before the layers were adhered to the card base. A Ribbon holder (retired Stampin' Up! Hardware) was attached to the upper right hand side of the image layers and Gold May Arts Organdy ribbon was threaded through it.
Another white and brown cardstock label were cut with the same dies as for the front. A sentiment from Seaside was stamped in Rich Memento Ink in the center of the label. The sand dollar images were inked up with Vintage Photo, stamped off once and then stamped onto the label. Just like the image layer, this layer was also sponged with Antique Linen and Vintage Photo distress ink.
For the center panel, a 1 1/8″ x  3 9/16″  piece of Fruehlingserwachen patterned paper was adhered to a white cardstock square.
The layers were folded down, then first the sentiment panel was adhered to the right side, the left side was opened just a bit, then placed over the sentiment panel. The image panel was adhered to the left side of the trifold. The card was tied shut with the Gold ribbon.
Here is a video for the visual learner: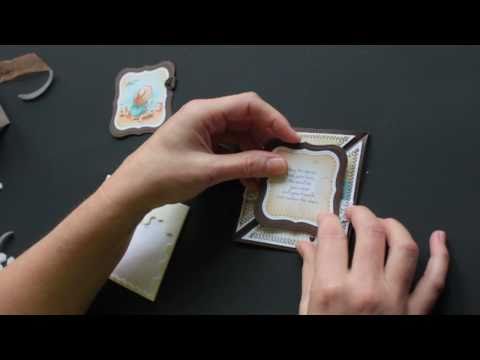 Thanks so much for stopping by! Have a wonderful day!
Hugs and smiles