Today's tutorial on SCS is created by Holly McMillen and is for a darling Drawer Box. It holds regular size cards as well as other treats. Holly says if you use thicker cardstock or thin chipboard, you can use them to store Nestabilities or clear stamp sets. How cool is that.
Mary Brown came over a couple of weeks ago and we stamped together. She brought over a few sheets of the new Early Espresso cardstock from Stampin' Up! Boy…that is gorgeous. I know I will order lots and lots of it. We used it to make the sample box for my sample for the video tutorial. In the video…I am using Chocolate Chip (she left me enough for the Video piece, I just cut it wrong. DUH).
A 4″ x 5 1/2″ piece of Daydream October Afternoon paper was stitched to an 1/8″ bigger piece of Very Vanilla cardstock. A 1 1/4″ x 5 1/2″ piece of Weathervane October Afternoon Paper was stitched to a slightly bigger piece of Very Vanilla that had been cut with Eyelet Borderabilities.
The sentiment is from Verve's Beautiful Kindness. It was stamped in Walnut Stain Distress Ink and cut out with Label 9 Nestabilities. The swirl is also from that set and was stamped in Aqua Adirondack ink.  The sentiment was adhered to the box top with dimensionals. The Aqua ribbon used here I bought at JoAnn's.
Here is a video for the visual learner: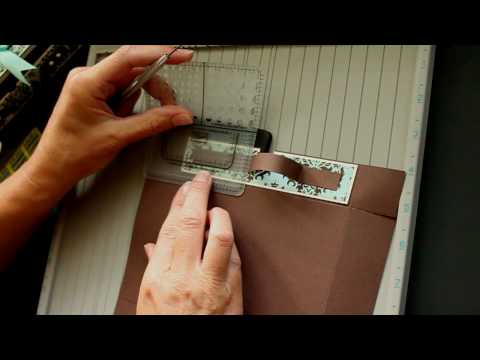 Personal Note:
I am sorry I haven't been visiting blogs and leaving comments and missing on some days of posting cards lately. We had friends visiting over the weekend and since Tuesday morning I only have internet early in the morning. Weird! Time Warner isn't coming until Friday to check it out. My personal guess is that something is wrong with our cable. When we had really cold weather the cable would be out until noon, then work again until it got cold in the evening. Now it seems my cable doesn't like hot either and is out from about 9:30 a.m. until 11 p.m. Arrrgh!
Thanks so much for stopping by! Have a wonderful day! Hugs and smiles