Welcome to JustRite Stampers' newest Wednesday feature, 12 Weeks of Christmas Blog Hops #3!  Every Wednesday up until Thanksgiving some of your favorite designers will be joining some of the JustRite design team for a series of Christmas blog hops, showcasing JustRite's entire Christmas Collection of stamps!  So mark your calendars for Wednesdays at 9am Central for great Christmas gift, card & project ideas, starting at the JustRite Inspiration blog! 
For my card I picked a set that is not in the Christmas collection, but has a beautiful Christmas Sentiment: Nature's Nested Sentiments. The sentiment I picked has a big beautiful font and was perfect to place into a beaded oval. I started by cutting and embossing an oval out of Cream Neenah Cardstock with Classic Oval Nestabilities. The oval was sponged first with Antique Linen, then the edges with Vintage Photo Distress ink. The sentiment was stamped in the center with Walnut Stain Distress Ink and a border was paper pierced.
 A beaded oval was cut and embossed from Cream cardstock and sponged with Vintage Photo ink. The oval with the sentiment was adhered with dimensionals to the beaded oval.
The card base is a 5 1/2″ x 8 1/2″ piece of Neenah Cream cardstock folded in half. The edges were sponged with Antique Linen.
A 4″ x 5 1/4″ piece of Kraft cardstock was sponged with Vintage photo. A 3 3/4″ x 5″ piece of Cosmo Cricket Jack Frost paper was sanded, sponged with Antique  Linen ink and then stitched to the sponged Kraft cardstock piece. Then the layers were adhered to the card base.
A Cream strip of cardstock was cut and embossed with Eyelet Borderabilities. It was cut in half length wise and adhered to the top and bottom of a  2″ x 5″ strip of Cosmo Cricket Flurry paper. The edges of the strip was sanded then sponged with Antique Linen. May Arts Crochet Lace was added to the lower half of the strip. The strip was adhered to card base. The oval layers were attached to the card base with dimensionals.
I cut tissue paper with the two smallest Eyelet Circle Nestabilities and held them together with one of Stampin' Up!'s Vintage brads. The tissue paper layers were sponged with Dusty Concord Distress ink. Then I created a colored pearlized spray by mixing water, Pearl Perfect Pearls and a drop of Vintage Photo Distress Re-inker in a Mini Mister. I then sprayed the flower and dried it with a heat tool to add shimmer and a darken the rest of the white tissue showing.  Champagne Kaisercraft pearls finish off the card front.
For the inside of the card, I sponged another 4″ x 5 1/4″ piece of Kraft cardstock with Vintage Photo. A 1″ strip of Jack frost and a 3/8″ strip of Flurry paper were stitched to a 3 3/4″ x 5″ piece of Cream cardstock.
I stamped the pine cone from Holiday Cheer Borders & Centers in Rich Cocoa Memento Ink on Cream cardstock. It cut and embossed it with Classic Circle Nestabilities. The image was colored with Copic Markers (E31, E33, E35, E37, V12, V15, BG11, G21, G24) and sponged with Antique Linen and Vintage Photo Distress ink. It was then layered on a Kraft cardstock piece with cut and embossed with Eyelet Circle Nestabilities and sponged with Vintage photo.
You can find a video for the tissue flower here: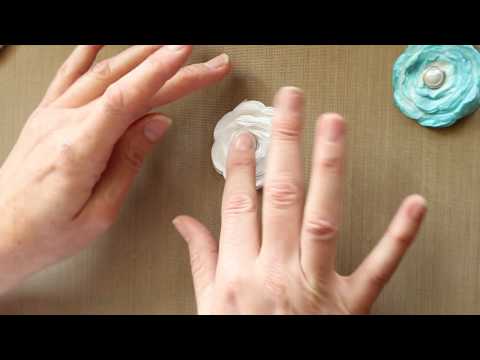 Please visit these designers' blogs to see what fabulous Christmas projects they have for you on the hop today!
JustRite Inspiration Blog
Debbie Olson
Becca Feeken
Sharon Harnist
Jeanne Streiff  <=may have some downtime 1-4pm Central
Michele Kovack
Mona Pendleton
Heidi Blankenship
Beate Johns  <=may have some downtime 1-4pm Central
Sankari Wegman
Selma Stevenson
Kellie Fortin
Angela Barkhouse
Pam Imholz
Kazan Clark
Liz Weber
Stephanie Kraft
Personal Note:
I am excited to tell you that I will be teaching my first class at a scrapbook store. You can find out the date, the cards and all the other details here! All three cards are Christmas cards created with Spellbinder dies. This card is one of them (minus the stitching, spraying the flower and the inside of the card).
Have a wonderful day! Hugs and smiles